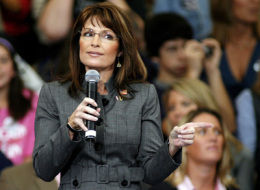 if I were spending approximately $2,500 a day on clothing, makeup, and hair styling. That's the story, though, rue it as the RNC may. Forget the bailout, let's talk makeover.
The Republican National Committee has spent more than $150,000 to clothe and accessorize vice presidential candidate Sarah Palin and her family since her surprise pick by John McCain in late August."
Being a woman, I had wondered about her wardrobe, fascinated to know you could get all those designer duds in Alaska (or, Uh – lais – kuh). I mean, I know many of her expenses are picked up by the taxpayers there, despite how paying taxes isn't patriotic, but I didn't think there was enough left over for the kind of threads she's been sporting. (Note that the story on travel expenses is from the Washington TIMES.) Todd, too, has been hitting the high-end retailers, the RNC spend nearly five grand on his potential-second-husband raiment. Must be nice.
In case, like me, you're too stunned, plus hooting too loudly, to do the math, the Huffington Post breaks it down nicely:
[I]t was revealed that Palin's fashion budget for several weeks was more than four times the median salary of an American plumber ($37,514). To put it another way: Palin received more valuable clothes in one month than the average American household spends on clothes in 80 years. A Democrat put it in even blunter terms: her clothes were the cost of health care for 15 or so people."
Wow, that's a lot of special treatment for Sarah Six Pack. I wonder how the best darn folks in America, the people on Main Street Wasilla, there, feel about it? I know she's one of their own, and that's a very pro-America part of the country, but do you think they're maybe a little bit steamed? I know my Gap shopping budget has taken a real hit this fall, am I the only one? (I know, I could try Forever XXI, but I'm tall, and, sadly, old, and those things just don't work for me!) This is really poor timing for the McCain campaign. If ever there was a campaign year to forgo ye olde costly personal grooming gaffe, this would have to be it.
Finally, on a strictly catty note – I'm jealous because I've never figured out a way to get someone else to pay for all the shoes I'd like to buy – if I were spending that kind of dosh, I wouldn't have shown up at my only debate in a too-tight, shiny suit. My cheeks wouldn't be consistently over-bronzed either. But that's just me.
Our stories may be republished online or in print under Creative Commons license CC BY-NC-ND 4.0. We ask that you edit only for style or to shorten, provide proper attribution and link to our web site. Please see our republishing guidelines for use of photos and graphics.