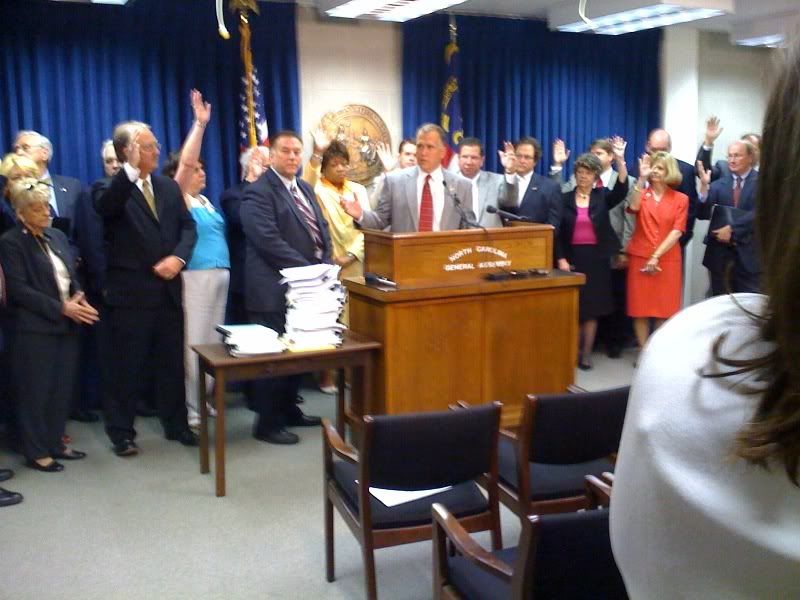 NC House Republicans Thursday morning performed another act of the Kabuki theater that is the State Budget process. Standing behind a pile of budget reports at a press conference Rep Skip Stam called out for transparency, without any trace of irony. Stam was trying to make a point that Republicans were shut out of the process. He claimed to have been personally turned away from a closed meeting in committee room 612, next door to his own office, but on questioning could not remember by whom and he did not describe the nature of the meeting.
Rep Thom Tillis called for a show of hands from Republican Appropriations Sub-Committee members (seen in the photo). Tillis said that committee meetings were being held elsewhere in the building at the same time. He said that the reason these committee members could be present at the press conference was because they were "not engaged in the process", again, without any trace of irony.
Rep Pearl Burris-Floyd claimed proposed "draconion" cuts to Health & Human Services were "intended to incite individuals who are the least of us" and that "we believe this is a time for government to do those things for people who cannot do those things for themselves". When asked "Would you vote for tax increases?" she replied "Absolutely not", again, without any trace of irony.
Curiously, for someone who chooses and disects words carefully, Stam made a couple of references to opposition to "tax rate increases" but did not broach the subject of increasing revenues by broadening the tax base and lowering tax rates.
Stam claimed, with all the bluster he could muster, that "the Democratic leadership is just not involving Republicans at all" and that it "is time for the Governor to step up to the plate and lead" and that "the crisis is too great for her to remain on the sidelines". Stam is one of the smarter Republicans and a skilled parliamentarian, or he wouldn't be House Minority Leader, but this kind of hyperbole is a Hail Mary pass from Monday morning quarterbacks at best.
Stam and Tillis did have valid observations about the House Rules that constrain Committee actions but the ritualistic drama of party politics obscured those points and the absence of specific proposals ensured that the Kabuki House Theater would move on to the next predictable act.
The general consensus at the General Assembly is that following wrap up by committees a budget will be introduced early next week with House votes Wednesday, Thursday and possibly Friday before sending the bill to the Senate. The noise about severe cuts is expected to pave the way for some revenue increases. It is not yet known if these will be in the House budget or left to the conference committee. Also expected are further pay cuts disguised as furloughs for State employees. The word is that the 0.5% cut (AKA 10 hour furlough) produced minimal savings relative to the effort to set it up in the payroll system. Now that the system is in place and employees have gotten used to the idea, deeper cuts and longer furloughs are expected.
Cross posted at BlueNC.com
Our stories may be republished online or in print under Creative Commons license CC BY-NC-ND 4.0. We ask that you edit only for style or to shorten, provide proper attribution and link to our web site. Please see our republishing guidelines for use of photos and graphics.