Briefs
NC Growers, Men of Mystery
The Truth Squad appeared on the political radar in 2008. The Truth Squad is a 527 Political Committee set up by C. Stan Eury, head of the NC Growers Association which is the nation's largest employer of legal migrant workers and the largest agricultural employer in NC. The 527's activity was initially limited to attacking Republican State Senate candidate David Rouzer in a local feud related to immigration law.
On November 3rd, 2008, the day before Election Day, a 1/4 page ad ran in the Raleigh News & Observer obviously supporting Steve Troxler for NC Commissioner of Agriculture, paid for by The Truth Squad. The NC Commissioner of Agriculture election is a statewide race. No reports have ever been made to the State Board of Elections by The Truth Squad.
A report filed with the IRS shows that The Truth Squad took in $19,200 on late October 2008, most of it coming directly from the NC Growers Association ($12,800 10/29) and Carolina Farm Credit, ACA ($5,000 10/21). On 10/29, $14,919 was spent on newspaper ads "to help elect Steve Troxler for NC Commissioner of Agriculture". (Full page ads in the Winston-Salem Journal and the Greensboro News-Record and 1/4 page ads in the Wilmington Star, Fayetteville Observer, Raleigh News & Observer and Durham Herald Sun). The ad walked right up to the line in election law separating information from vote solicitation. In portraying incumbent Troxler as a farmer and challenger Ansley as a lawyer the ad leaned right over that line, leaving no doubt as to whom you should vote for by saying "Ask a Farmer".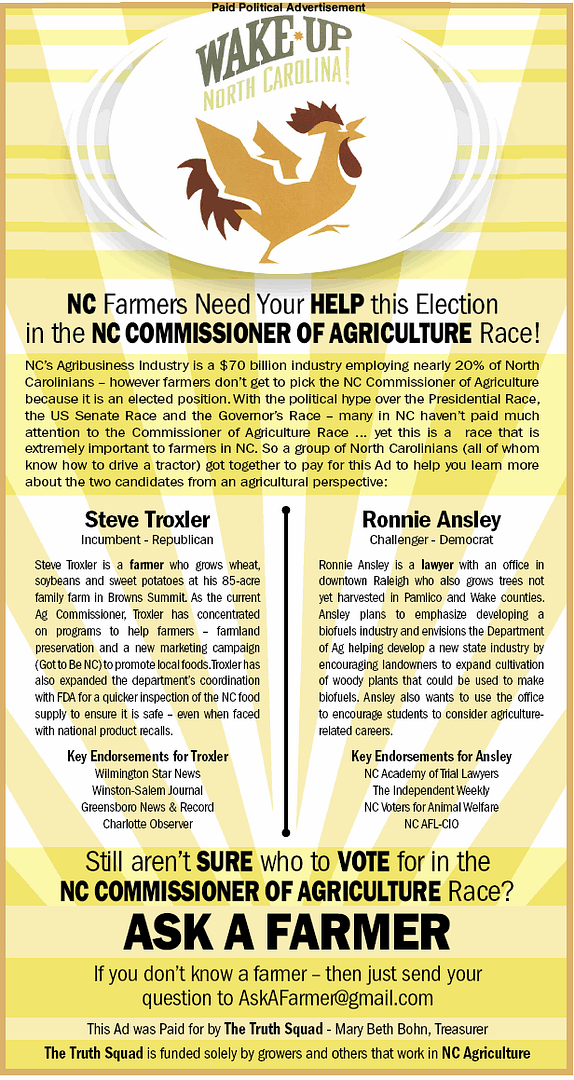 In the Fourth Quarter of 2008 the NC Growers Association PAC reported to the SBOE initial cash on hand of just $1,827. It reported a 9/27 contribution of $1,000 to the campaign of Labor Commissioner Cherie Berry. It reported a subsequent 10/13 contribution of $2,000 to the campaign of Agriculture Commissioner Steve Troxler when it apparently only had $827 cash on hand. The PAC reported receiving $17,100 on 10/14 comprised of a total of 855 checks each being equal contributions of $20. Reports made by the NC Growers Association PAC show that no other contributions had been made to the PAC since Fall 2005.
It is unlikely that this late spending could influence either election. It is more likely that it was intended to curry favor with Commissioners who have responsibility and influence related to migrant agricultural labor in North Carolina. The contributions to the 527 are troubling because they demonstrate how easy it is to inject corporate cash into a state or local election. The PAC contributions are unusual because they are improbably numerous, identical in amount, type, date, and well below the threshold for reporting of names, occupations and employers and, because no other contributions were reported. Maybe money does grow on trees and is harvested on a single day.
Our stories may be republished online or in print under Creative Commons license CC BY-NC-ND 4.0. We ask that you edit only for style or to shorten, provide proper attribution and link to our web site. Please see our republishing guidelines for use of photos and graphics.